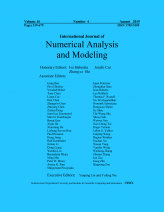 International Journal of Numerical Analysis and Modeling
Electronic: 2617-8710
ISSN Print: 1705-5105
Aims and Scope
International Journal of Numerical Analysis & Modeling (IJNAM) is directed to the broad spectrum of researchers in scientific computing, and publishes high quality papers in all fields of numerical analysis and mathematical modeling. IJNAM welcomes contribution of original developments of numerical methods and analysis leading to better understanding of the existing algorithms. Rigorous studies of the convergence, stability, and complexity for numerical methods are particularly appropriate for this journal.
Impact Factor:1.105
5-Year Impact Factor:0.983
CiteScore:1.5
IJNAM's 2019 SCI impact factor is 1.105. IJNAM is ranked #95 among the 324 mathematical journals.

Starting from 2005, the information on the contents of this publication is indexed and abstracted in:
Science Citation Index Expanded
The Web of Science
Current Contents/Physical, Chemical and Earth Sciences

Featured Articles more

An Error Estimate of a Eulerian-Lagrangian Localized Adjoint Method for a Space-Fractional Advection Diffusion Equation

by Tingting Wang, Xiaofan Li & Hong Wang, Int. J. Numer. Anal. Mod., 17 (2020), pp. 151-171.

3D $B$<sub>2</sub> Model for Radiative Transfer Equation

by Ruo Li & Weiming Li, Int. J. Numer. Anal. Mod., 17 (2020), pp. 118-150.

Convergence Analysis of Finite Element Approximation for 3-D Magneto-Heating Coupling Model

by Lixiu Wang, Changhui Yao & Zhimin Zhang, Int. J. Numer. Anal. Mod., 17 (2020), pp. 1-23.

Open Access Articles more

A Time-Accurate, Adaptive Discretization for Fluid Flow Problems

Victor Decaria, William Layton & Haiyun Zhao, Int. J. Numer. Anal. Mod., 17 (2020), pp. 254-280.

Using $p$-Refinement to Increase Boundary Derivative Convergence Rates

David Wells & Jeffrey Banks, Int. J. Numer. Anal. Mod., 16 (2019), pp. 891-924.

Strong Convergence and Stability of the Semi-Tamed and Tamed Euler Schemes for Stochastic Differential Equations with Jumps under Non-Global Lipschitz Condition

Antoine Tambue & Jean Daniel Mukam, Int. J. Numer. Anal. Mod., 16 (2019), pp. 847-872.