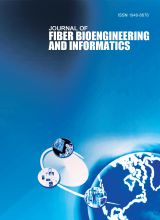 Journal of Fiber Bioengineering and Informatics
Electronic: 2617-8699
ISSN Print: 1940-8676
Aims and Scope
Journal of Fiber Bioengineering and Informatics (JFBI) is a peer-reviewed international journal to promote multidisciplinary research and collaborations across different fields in fiber science, engineering and technology. This quarterly published journal is fully committed to help authors to generate high impact research outputs in terms of academic citations, industrial applications and contributions to the society. It aims to create an international forum for exchanging novel ideas of research.
Impact Factor:
5-Year Impact Factor:
CiteScore:
The 13th Textile Bioengineering and Informatics Symposium(TBIS 2020 Webinar)will be held from July 7-10, 2020. The theme of the symposium is Combating COVID-19 Pandemic with Science and Technology Innovations. For more information, please click here.

The mission of JFBI is to create an international forum for exchanging novel ideas to promote the overall impact of research in fiber science, textile engineering and medical sciences.

JFBI has a distinguished editorial board with extensive academic qualifications, ensuring that the journal will maintain high academic standards and have a broad international coverage.